Overall:
B+
(

4.0

/5.0 stars)
Value:
B
(3.5/5.0 stars)
Atmosphere:
A-
(4.2/5.0 stars)
Service:
A-
(4.2/5.0 stars)
Taste:
B+
(4.0/5.0 stars)
Presentation:
B
(3.5/5.0 stars)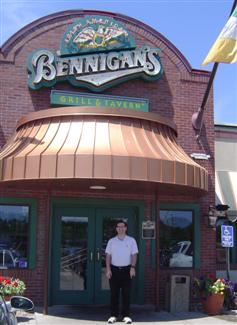 ---
Reuben Details
Sandwich Name: Reuben ($7.99)
Menu Description: Warm corned beef, thinly sliced and covered with sauerkraut, white cheddar and Swiss cheese. Served on lightly toasted potato rye with Thousand Island dressing.
Included Side Items: Never-ending seasoned French fries; pickle spear.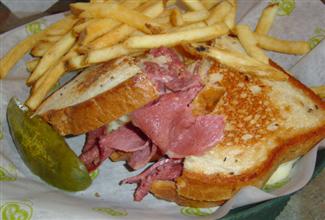 Presentation: The sandwich was served cut diagonally, and placed in a plastic plate/basket lined with wax paper. One half of the sandwich was perched sideways tilted onto the other half, next to the French fries and pickle spear. The sandwich was built with Thousand Island spread on the bottom slice of rye, with the corned beef laid on top of the dressing. Above the beef was the cheese layer, with some sauerkraut embedded above it, capped with the top slice of rye.
Dimensions: 624 cm3 (13 cm x 12 cm x 4 cm)
Bulk-to-Cost Ratio: 78 cm3/dollar
---
Review -

Chris Rowland
Review Date: Jul 9, 2006
Overall:
B+
(

4.0

/5.0 stars)
Value:
B
(3.5/5.0 stars)
Atmosphere:
A-
(4.2/5.0 stars)
Service:
A-
(4.2/5.0 stars)
Taste:
B+
(4.0/5.0 stars)
Presentation:
B
(3.5/5.0 stars)
This Bennigan's is attached to the front of a Holiday Inn. The sandwich was very soggy on the bottom and I had to flip it immediately. The addition of the white cheddar was an unpleasant thing--it overpowered the sandwich and dominated the taste. It joined with the Swiss and the sauerkraut to create a floating cheese layer that went in and out of the sandwich. The meat was a good quantity, but a little tough and stringy in the thick slices. The bread was tasty--lightly grilled by it was a little too weak for the soggy cheesy ingredients. The sauerkraut and Thousand Island tasted okay, although small in quantity. The sauerkraut was in thick slices and not really shredded well, kind of like big cabbage leaves. The seasoned fries were good. Overall the sandwich wasn't too super. If I were at Bennigan's I'd probably have it again, but I probably wouldn't recommend it.