Overall:
A
(

4.5

/5.0 stars)
Value:
A
(4.5/5.0 stars)
Atmosphere:
A-
(4.2/5.0 stars)
Service:
A-
(4.2/5.0 stars)
Taste:
A+
(5.0/5.0 stars)
Presentation:
A
(4.5/5.0 stars)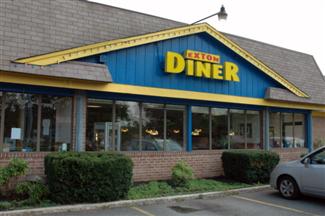 ---
Reuben Details
Sandwich Name: Reuben ($8.49)
Menu Description: Corned beef or turkey, sauerkraut, melted Swiss cheese and Russian dressing on grilled rye bread.
Included Side Items: Served with French Fries, Cole Slaw and Pickles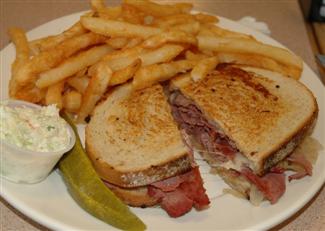 Presentation: The sandwich was on grilled rye bread, cut down the middle and served on a white plate next to the French fries, plastic cup of cole slaw and pickle spear. The sandwich was constructed with Swiss cheese against the bottom slice of rye, followed by sauerkraut, corned beef and another layer of Swiss. Thousand Island dressing was applied to the top slice of rye.
Dimensions: 616 cm3 (14 cm x 11 cm x 4 cm)
Bulk-to-Cost Ratio: 73 cm3/dollar
---
Review -

Chris Rowland
Review Date: Jul 28, 2009
Overall:
A
(

4.5

/5.0 stars)
Value:
A
(4.5/5.0 stars)
Atmosphere:
A-
(4.2/5.0 stars)
Service:
A-
(4.2/5.0 stars)
Taste:
A+
(5.0/5.0 stars)
Presentation:
A
(4.5/5.0 stars)
This was a super-tasty sandwich. The Swiss was delicious! The sandwich was light on the quantity of Russian dressing. The rye was thin but flavorful. The sauerkraut was a little sweet. The beef was delicious. The fries were also marvelous, with some kind of coating on them. The Exton Diner had a Denny's-like interior feel to it.