Overall:
A+
(

5.0

/5.0 stars)
Value:
A
(4.5/5.0 stars)
Atmosphere:
B
(3.5/5.0 stars)
Service:
B
(3.5/5.0 stars)
Taste:
A+
(5.0/5.0 stars)
Presentation:
A-
(4.2/5.0 stars)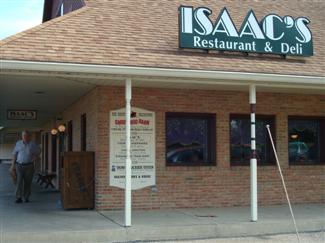 ---
Reuben Details
Sandwich Name: Isaac's Reuben ($6.89)
Menu Description: Your choice of corned beef or turkey breast, served with Swiss cheese and sauerkraut and a touch of Thousand Island dressing, then grilled on rye.
Included Side Items: Chips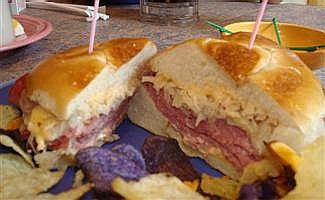 Presentation: The sandwich was cut diagonally and presented on a colorful plate beside the side item. My particular version of the sandwich had a soft pretzel roll substituted for rye bread with thousand island dressing and corned beef on the bottom, covered by sauerkraut and more thousand island before being topped with a slice of Swiss cheese.
Dimensions: 635.25 cm3 (11 cm x 10.5 cm x 5.5 cm)
Bulk-to-Cost Ratio: 92 cm3/dollar
---
Review -

Chris Rowland
Review Date: Sep 28, 2007
Overall:
A+
(

5.0

/5.0 stars)
Value:
A
(4.5/5.0 stars)
Atmosphere:
B
(3.5/5.0 stars)
Service:
B
(3.5/5.0 stars)
Taste:
A+
(5.0/5.0 stars)
Presentation:
A-
(4.2/5.0 stars)
The corned beef on this sandwich was excellent! I paid extra to have the sandwich on a soft pretzel roll instead of rye bread, and it was delightful! I ate here and had the Reuben three times on our trip. The sandwich has a great sauerkraut flavor which mixed with the sweetness of the pretzel roll to make a delight for the tongue! The Swiss cheese wasn't noticeable but the Thousand Island was noted. I definitely recommend coming to one of Isaac's locations and trying their Reuben. The chips included sweet potato chips which were tantalizing.